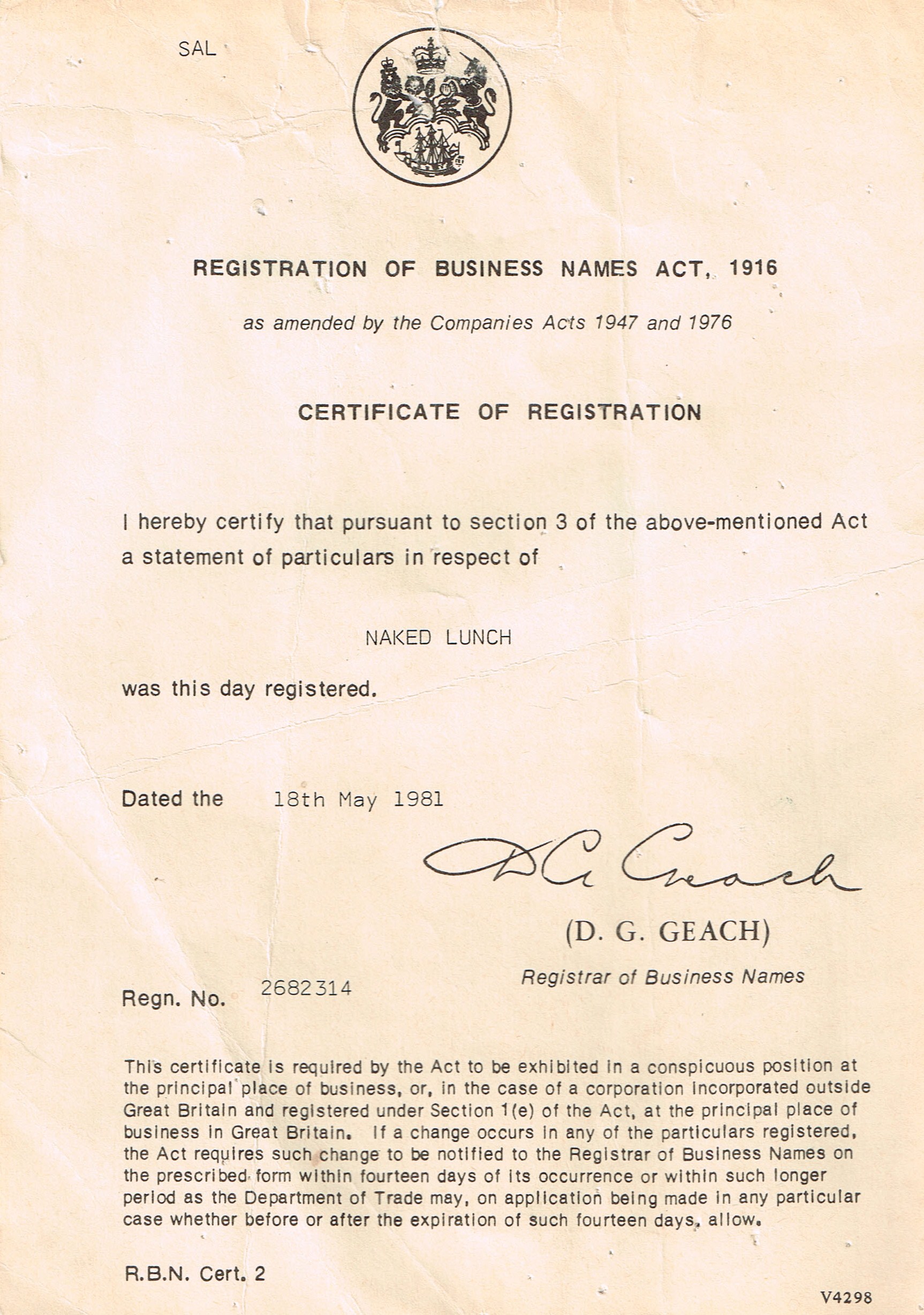 In 1979 punk music had been around since 1976 and was becoming commercially acceptable. This was the year that Tony Mayo left a punk band and began writing some material with Gary Shepherd a local guitarist .The aim was to do something different and build on the influences of early electronic music and punk, creating a new form of electronic music and in doing so he founded Naked Lunch. An advertisement in the Melody Maker resulted in Mick Clarke, who had a mini moog and a solo electronic album released in Germany joining up with Tony.
Tony and Mick moved into a flat and began writing more songs and in 1980 began seeking others to join the band to enable them to play live, including drummer, Tim York, joined and so did Cliff Chapman, who had a Roland system and an ARP. Gary left due to being stabbed at a wedding reception and was replaced by Paul Nicholas Davies, who played both guitar and Korg synthesiser. Tim left and it was decided to experiment with sequencers live and Phil Thornton joined the band. However, after the Clarendon, Hammersmith, London, gig it was decided that trying to use sequencers and change their setting live was not viable and begrudgingly Naked Lunch moved to backing tapes. Not long after this Phil left the band to pursue his solo work.
The Clarendon event at which DAF, Cabaret Voltaire, Fad Gadget, B Movie and Clock DVA played was organised by Stevo, in conjunction with Naked Lunch. Tony Mayo used to DJ with Stevo at Billy's and also the Chelsea Drug store and the two of them worked closely together promoting electronic music. As a result of this collaboration Naked Lunch did a tour in 1980, called Naked Lunch's Electronic Indoctrination Tour, which finished with an appearance at the Leeds Futurama, which was filmed and eventually broadcast on BBC2. During this time Naked Lunch demo tapes, recorded to get gigs featured in Futurists charts and included Rabies and Weekend Behaviour.
After this Naked Lunch helped Stevo in finding bands and collect the various recordings that became the Some Bizarre Album. Despite the belief that music should be heard live and a dislike for pointless records, it was felt by the band that this was a worthy project, as it was promoting the electronic music community.
Naked Lunch was the only band for whom Stevo paid the recording costs of their track, La Femme. (This was originally called Le Femme but Phonogram changed it to grammatically correct French, missing the point of the androgyny of the electronic
music scene and that the song was about that).
Before the Some Bizarre Album was released Tony Mayo, Stevo and Daniel Miller (Mute records) met in an Indian restaurant in Kings Cross and discussed if the album should be independent or licensed release. Tony was for licensing through a major
label, to maximise exposure of the bands and Daniel was for it being independent. It was after this meeting that the deal with phonogram was agreed and the album released. Not long after this Naked Lunch and Stevo parted company after an argument at Billy's and despite Some Bizarre and Phonogram records wanting the BBC2 program "the old grey whistle test" to feature Soft Cell, Naked Lunch's "La Femme" was.
At the end of 1980 Naked Lunch had given an interview to ZIGZAG , a London based magazine and had begun looking for a drummer having become bored with using just sequencers on tapes. This resulted in the auditioning of drummers, many of
whom found it hard to play in time with sequencers or did not like the Naked Lunch attitude towards cymbals. This being that the only cymbal acceptable was and still is the hi hat, any other percussive metallic sounds being created by variances of white noise generated by electronic devices.
Mark Irving could play along with the sequencers and his style of drumming did not rely on the strange drummer habit of bashing cymbals all over the place and cluttering up the frequency range. He became a member of Naked Lunch.
At this point that the band became managed by Ramkup and was looked after by Mike Philips, who also managed the UK Subs and later the Exploited. This was followed by Interviews in Record Mirror and Sounds, an afternoon recording session at Abbey Road for EMI, with the track released on the Terpsichore Album and the recording of Rabies and Slipping Again, released by the management company. The single was subsequently banned from day time radio play, as the use of the word Rabies was viewed as offensive. However, it did receive nighttime air play from John Peel and Nicky Horne.
Naked Lunch joined a further tour, "the 2002 review tour" and it was not long after this tour that the commercial pressures on the band resulted in internal friction and the splitting up of the band. Tony Mayo retained the name Naked Lunch, which he registered with Companies House in May 1981 to protect it from any unauthorised use. The other members went into other bands and projects.
Tony Mayo had been in discussion with London weekend television about the TV program, Twentieth Century Box, doing a program on electronic music and also suggested that they include a band in Basildon, called Depeche Mode. The program was made and rather than filming Naked Lunch playing at a venue filming was done at Tony Mayo's home and comments from his interview were used throughout explaining the growth of the electronic music scene Naked Lunch mark two had the Dave Knight of the Fast Set, Tim York, Paul Loughnane as its initial line up with variety of members coming and going over the next few years. During this time Naked Lunch was more of an electronic musical collective, with Tony and Paul as the core members. Naked Lunch carried on playing live and headlined the first national Futurist festival at the Venue in London, where the subsequently headlined numerous times. They also headlined at the Marquee in Wardor Street and on one occasion Paul Davies and Mark Irvine played in the lineup.
Naked Lunch continued in a live format until early 1985 and during that time had entered into a production deal to write and record material, believing this would give them freedom from record company interference. This was not the case, with recordings sessions having someone from the company present and interfering in the recordings. This resulted in several rows, mixes and edits of tracks being done to try to make them commercial and misrepresenting the Naked Lunch material, resulting in the release of two singles, one of which did not have the support of Naked Lunch.
After this time Tony Mayo continued with Naked Lunch projects and in the mid 1990's recorded a single which resulted in an injunction from ITC in the USA preventing its release. A small sample of the kettle drums had been taken from Captain Scarlet and negotiation for payment had been ongoing but the legal person in the USA did not understand the way royalties are paid in the music industry, Injunctions were also put on the Big Breakfast and other programs prohibiting them from playing the tack "Captain Black is Back".
In 2010 Paul Davies and Tony Mayo linked up again and agreed to recommence writing material and during 2011 relinked up with Mick Clark and Cliff Chapman. The impetus to stop talking and to get on with it came from Deb Danahay, who asked if they would reform and play at BAS II in Essex. Naked Lunch agreed they would after over 30 years play live together again and early in 2012 the final member needed, Mark Irvine, rejoined the band, Naked Lunch are now working on material, discussing how to present our music live, linking in with other artists and trying to promote a renaissance in electronic music. Naked Lunch, however, still believe that music should be heard live and that releasing records or placing tracks on sound cloud etc. should not be seen as the end of the creative process. The attitudes of Naked Lunch are the same as those so many years ago, that stagnation in normality is to be avoided and that freedom to challenge perceptions and boundaries is essential in any art form.
Naked Lunch still believe that music should be heard live and that releasing records or placing tracks on sound cloud etc. should not be seen as the end of the creative process. The attitudes of Naked Lunch are the same as those so many years ago, that stagnation in normality is to be avoided and that freedom to challenge perceptions and boundaries is essential in any art form.